'Bleak Friday': websites of UK energy suppliers crash in meter reading rush
Millions of households faced chaos on Thursday as the websites of the major energy providers crashed after being overwhelmed by a flood of customers rushing to secure cheaper bills ahead of Friday's massive hike in prices.
Panicked customers rushed to submit meter readings, responding to advice to ensure they got a cheaper rate for energy right up until the end of the day.
At the stroke of midnight, average annual energy bills were due to rise to £1,971 on a day being called "bleak Friday" by some, with multiple scheduled price hikes from council tax to VAT on pints adding to the spiralling cost-of-living crisis.
As households around the country hurried to ensure they were charged at the lower rate for longer, British Gas, EDF, E.ON, SSE Scottish Power and Bulb all appeared to struggle with the volume of submissions from households.
Customers of multiple major energy suppliers vented their fury after finding that they were unable to send in readings.
The problems began on the British Gas website as early as Wednesday, as people logging on to the "submit a meter reading" section were met with a message saying: "Service temporarily unavailable".
The site was still inaccessible on Thursday, displaying a "proxy error" message. There were also reports that the app was down.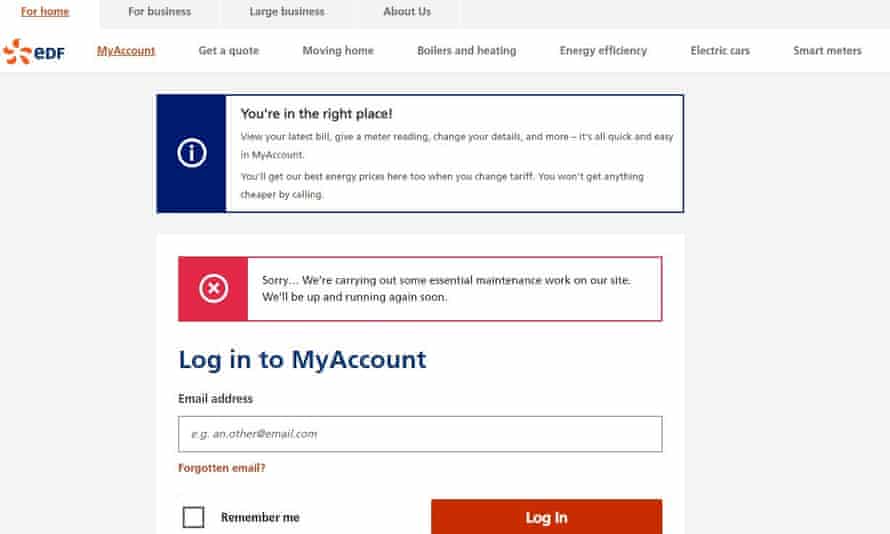 SSE customers trying to send in readings were greeted with a message that said: "Sorry, we're working on this part of our website."
Customers also reported difficulty submitting readings to EDF, E.ON and Scottish Power, with some questioning why the faults happened just as households were trying to reduce their bills.
"If I was a little bit more cynical I might think this was intentional," said one Twitter user.
E.ON appeared to blame the consumer affairs expert Martin Lewis, who had advised people to submit readings, for its website's failure to cope with the surge of interest.
A company Twitter account wrote that Lewis had "once again created unprecedented demand bringing down Britain" before the message was later deleted.
The chaos came against a backdrop of persistently high prices for natural gas, which spiked in early winter and are now expected to remain high because of the invasion of Ukraine by Russia, the world's second-largest gas supplier.
The trade body Energy UK urged customers not to worry, saying: "Most suppliers are offering alternative options such as submitting at a later date, and different methods to send meter readings such as text, social media and email.
"This demonstrates the scale of the problem and how worried people are about high prices, which is why we have been asking government to intervene to provide further support to consumers."
The chaos was triggered by energy regulator Ofgem increasing the price cap, the maximum per-unit rate that can be charged for gas and electricity, in response to persistently sky-high wholesale gas prices.
An average home on a default tariff paying by direct debit faces an increase on their annual bill of £693, or 54%, to £1,971, a rise that has prompted widespread concern about the spiralling cost-of-living crisis.
Experts have said the war in Ukraine could drive annual bills to £3,000 at the next price cap decision in October.
Some of the poorest people in the UK will "simply starve or freeze" as a result, Lewis has warned.
Rishi Sunak has faced criticism for not doing more to help people struggling with energy bills in his spring statement. But the chancellor has so far refused to build upon existing support for households, which has been branded inadequate by Labour.
The government has also effectively ruled out a windfall tax on North Sea oil firms to help fund extra help on energy bills.
Pressure on gas prices has been further complicated by a drive among western economies to reduce reliance on Russian supplies.
Joe Biden signed a deal with the EU earlier this month to increase US deliveries of liquefied natural gas (LNG) in the hope of diluting the power conferred on the Kremlin by Russia's hold on gas reserves.
But the deal is unlikely to have an impact on prices, with increased demand for shipments of LNG typically leading to suppliers charging higher prices for it.
While energy bills are one of the most noticeable extra costs facing households, the increase is accompanied by a host of other rising costs, some also coming into effect from 1 April.
Council tax is rising by an average of 3.5%, or £67, from Friday, while telecoms and streaming companies have announced price hikes across their services, amounting to approximately an on average increase of £42 a year.
Social housing rents are rising by up to 4.1%, or £202 a year on average, while vehicle excise duty is going up by £10 a year. A temporary VAT cut on hospitality comes to an end on Friday, adding 20p to the price of a pint of beer.
Businesses are also facing extreme pressures, particularly from gas prices. Industries that are particularly energy-intensive, such as ceramics and glass-blowing have said factories may need to shut down unless they receive some help.
Small businesses are facing a huge rise in bills, according to the energy analysis group Cornwall Insight, with some facing cost increases of 250%.
"Unlike domestic customers, non-domestic customers have yet to see any dedicated government support to manage the record high energy bills they are facing," Cornwall said.
"The unstable energy market is also seeing suppliers withdraw tariff propositions at short notice, which is making it harder for business customers to secure the contracts they need, and may lead to them facing higher costs given the nature of this volatility."
The government is expected to publish an energy security white paper next week, outlining how the UK will reduce its reliance on foreign imports of oil and gas.
But the proposals are not expected to have any impact on the immediate cost pressures contributing to soaring inflation, such as petrol prices, home heating or freight costs that drive up prices of food and goods.